Advisory Board
The strategic direction for achieving our mission is provided by the Women's Fund Advisory Board. The central work of the Women's Fund — fund development, events that inform and raise grant awareness, and stewardship — all take place with the collaborative support of committees and volunteers.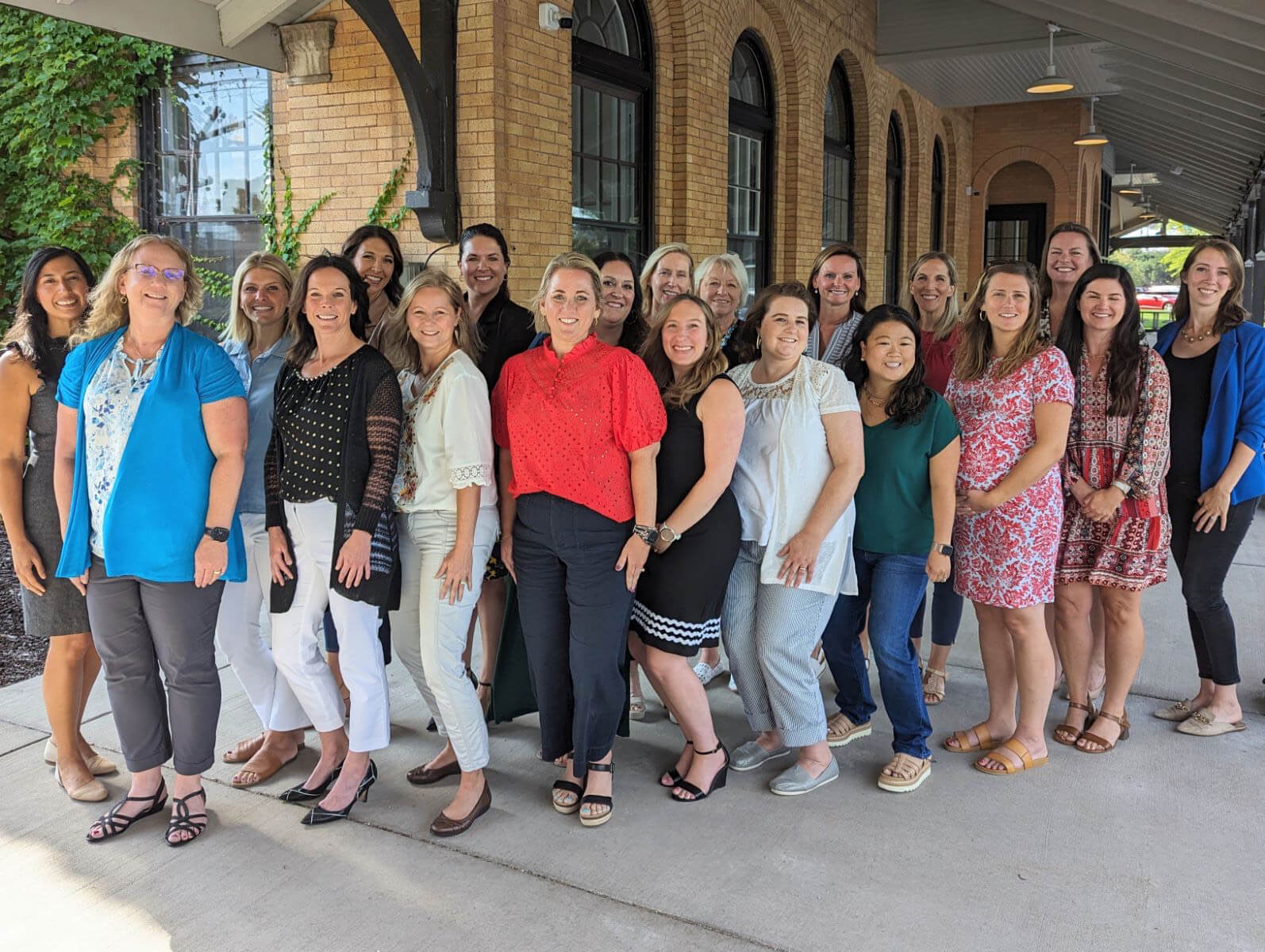 2023-2024 Executive Team
Leadership
Women's Fund President – Lori Harris
Vice President – Stephanie Schultz
Finance Chair – Sara Funk
Secretary – Jessica Diederich
Events – Kimberly Sawyer
Grants – Ann Weiss
Nominations and Community Engagement – Lindsey Petasek
Stewardship and Fund Development – Morgan Fuller
Strategic Communications and Marketing – Joanna Schreurs
Greater Green Bay Community Foundation Liaison – Amanda Gay
2022-2023 Advisory Board
Jennifer Bauer
Morgan Fuller
Linda Hansen
Anna Hoefner
Micki Koehler
Indhira LaPuma
Kim Linehan
Keely Marlowe
Brittni Moran
Melinda Morella-Olson
Erica Murphy DeQuaine
Jessie Pondell
Angela Schuchart
Molly Vandervest
Tara Yang
Emeritus Advisory Board Members
Tracy Alpert
Nancy Armbrust
Aymee Balison
Susan Baranczyk
Lorrie Blaylock
Julie Blank
Kate Burgess
Nicole Campbell
Beverly Carmichael
Diane Conway
Apache Danforth
Diane Ford
Lise Gammeltoft
Dee Geurts-Bengtson
LoisGrace Golde
DeDe Heid
Patty Hoeft
Irene Hogan
Kate Hogan
Judith Johnson
Gail King
Barbara Koldos
Lindi Kuritz
Cynthia Lasecki
Laura Lear
Karmen Lemke
Toni Loch
Therese Matousek
Gail McNutt
Betsy Mitchell
Karen Monfre
Judy Nagel
Bridget O'Connor
Pat O'Keefe*
Jonie Paye*
Suzette Pfeifer
Susan Porath
Rebecca Pruess
Colleen Remley
Sharon Resch
Diane Roundy
Kim Schanock
Sue Schinkten
Sabina Singh
Jeanne Stangel
Donsia Strong Hill
Kristin Suchalla
Nancy Thompson
Cynthia Treleven
Julie Van Straten
Maryanne Weyenberg
Susan White*
Sue Weyers
Jeanne Wolf
Thank you to all who contribute
Thank you to the countless individuals, families, businesses, and organizations who have made a contribution to the Women's Fund. The Women's Fund of Greater Green Bay has grown to an endowment of over $3 million because of generous donors. We can't begin to express our appreciation! Any size contribution is welcome. Every dollar helps support our mission, and makes a direct impact on our community.
Legacy Named Funds of the Women's Fund of Greater Green Bay
Associated Bank Women of Legacy Fund
Balison Family Fund for Women & Girls
Lauren L. Conway & Kelsey J. Conway Fund for Women & Girls
Marlene Dockry & Margaret Ford Fund for Women & Girls
Emeritus Legacy Fund for Women & Girls
Melissa & Christy Ford Fund for Women & Girls
Green Bay Packers Give Back Fund for Women & Girls
Arlene Heim Memorial Fund for Basic Needs
Julie Kasper Fund for Women & Girls
Children & Grandchildren of Julie-Anne Kress Fund for Women & Girls
Patricia McCollow Kress Fund for Education & Achievement
Pat Larsen Fund for Women & Girls in honor of Jack and Alice Naylor
Karmen Lemke Family Fund for Women & Girls in honor of Lauren, Lyndsay and Leah Lemke
Betty Lou Lewis Fund for Women & Girls
Julianne M. Long Fund for Women & Girls
Bill & Julia Malooly Fund for Women & Girls
Theresa McClarrinon Fund for Women & Girls in memory of Christine Gaedtke
Therese Pandl / Preava Fund for Women and Girls
Organizational Leadership & Development Fund to Benefit Women & Girls
Susan & Mark Porath Family Fund for Women & Girls
Sharon J. Resch Fund for Education & Achievement
Diane & Megan Roundy Fund for Women & Girls
Marie Ruys & Maryanne Weyenberg Fund for Women & Girls
Mary Ritter Schanock Fund for Education & Achievement
Donna Schanock Stout Fund for Education & Achievement in memory of Diane M. Pavlik
Mitchell Smith Family Fund for Women & Girls
ST Paper Fund for Women & Girls
Van Straten Family Fund for Women & Girls
Larry L. & Lois C. Weyers Fund for Women & Girls